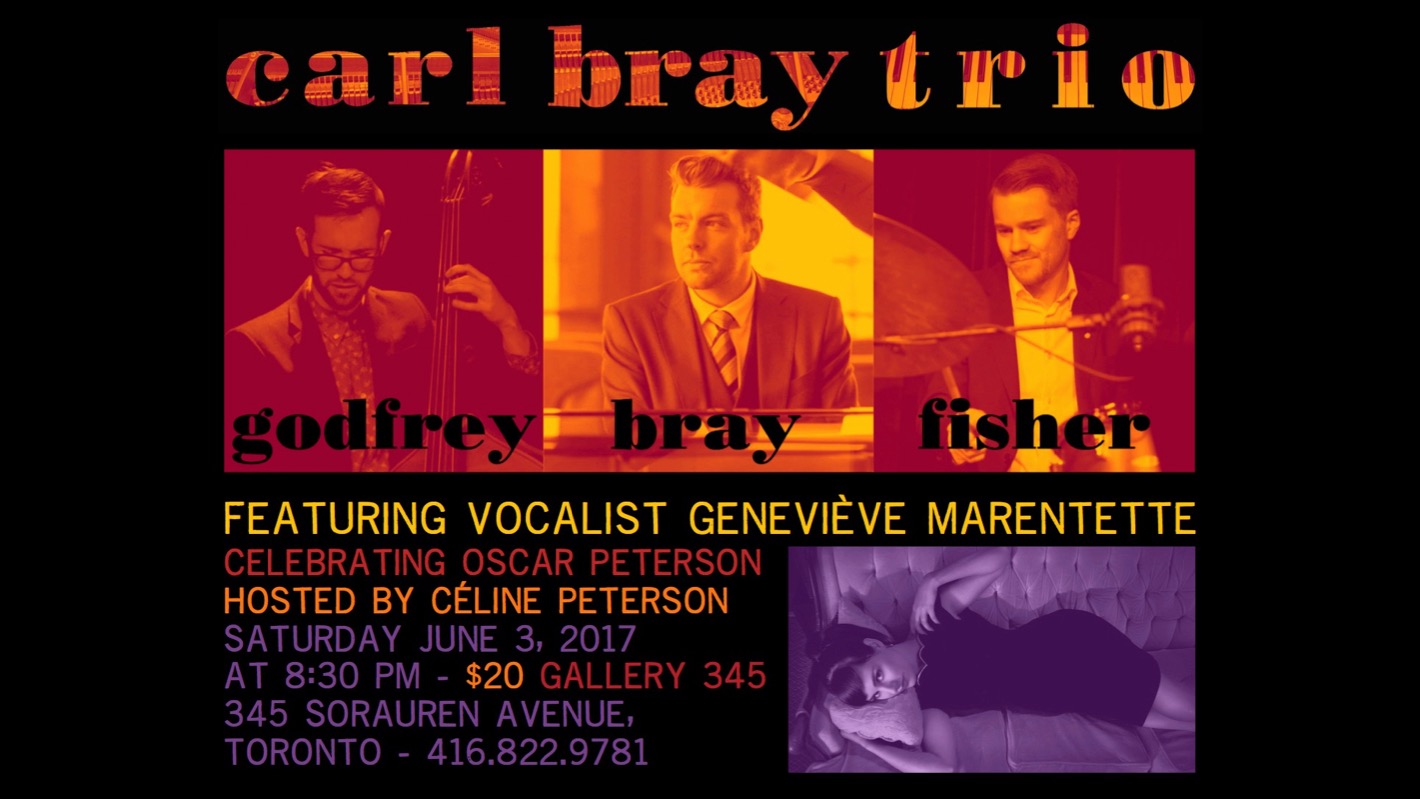 Carl Bray Trio - Celebrating Oscar Peterson - Featuring G...
April 09
02:43 PM
Venue
Gallery 345
Toronto, ON
Radar
Performers
Event Details
CARL BRAY TRIO – CELEBRATING OSCAR – HOSTED BY CÉLINE PETERSON – FEATURING VOCALIST GENEVIÈVE MARENTETTE
Saturday June 3, 2017
8:30 pm - $20 advanced tix, $10 students Gallery 345
Gift tickets available for arts patrons who cannot attend, will be given to fellow artists and arts workers.
345 Sorauren Avenue,
Toronto - 416.822.9781
A classic jazz piano trio performing music from the golden era of jazz. A mix of fresh original compositions that pay homage to the iconic trios of the 40's - 60's, and the best selections from the Great American songbook. Their sound is a high-energy, dynamic conversation between three great musicians. Geneviève Marentette will perform selections from the Oscar Peterson catalogue with anectodes from Céline Peterson.
"I stumbled upon these 3 young men in my favourite neighbourhood bar. Carl was playing a salty old upright piano and I was instantly captivated by their off-book passion and interplay. Beautiful, fun and lively original music. Mr. Bray's compositions are as soul quenching as the past and as wishful as the future. I can't wait to hear them in the beautiful Gallery 345" - Genevieve Marentette (Presenter and musician)
Carl Bray - piano - Oscar Peterson Award winner, Carl Bray was named one of Canada's rising star pianists by CBC Radio. He has had the privilege of performing for the Governor General of Canada, and shared the stage with Don Thompson, Terrance Blanchard and Chris Potter. Bray recently returned to Toronto after graduating with honours from UCLA's Film Composition program. His compositions reveal a strong appreciation of the classic eras of jazz and the exciting world of film music. This coming spring Mr. Bray has been invited to speak and perform at The Walrus Talks Conversations about Canada as part of a panel alongside luminaries such as Margaret Atwood.
Mark Godfrey - bass - Hailing from rural Southwestern Ontario and now based in Toronto, bassist Mark Godfrey has emerged as one of the new faces of Canadian jazz. Awarded the Grand Prix de Jazz from the Montreal Jazz Festival in 2014 along with his ensemble Pram Trio, his work as a co-leader, bassist, and composer has garnered international recognition. Mark has performed as a feature artist at jazz festivals across Canada including Victoria, Vancouver, Calgary, Toronto, Montreal, Halifax and Rimouski.
Will Fisher - drums - Nova Scotia born, Toronto-based drummer, Will Fisher has been named a "bright light on the cusp of a great career" by CBC Radio. He holds a Masters of Music from the University of Louisville, which he received on full scholarship as a member of the Jamey Aebersold International Masters Quartet. Mr. Fisher has toured extensively throughout North America, Europe, and Asia. As leader, his debut album Portage was nominated for ECMA Jazz Recording of the Year.